Escaping winter blues with a sunny weekend in Lisbon! Tips for exploring the city, visiting Sintra and Pena Palace, eating Pastéis de Belém, and more.
We went to Lisbon seeking sunshine during a gloomy January weekend in Germany. Even in the middle of winter, Lisbon enjoys mostly sunny days with mild temperatures between 50 to 60° F.
We booked this trip using weekend.com. Planning trips can be fun, but it can also be overwhelming when you aren't sure where to start. With the weekend.com booking tool, you simply plug in the dates you wish to travel and choose from packages including airfare and accommodations in various destinations. In just a few clicks, we had roundtrip flights and 3-star accommodations in the city center booked.
We arrived to Lisbon airport late Friday night and rode the metro to Hotel Borges Chiado, located in the Chiado neighborhood within walking distance to most of Lisbon's most popular attractions. We immediately set out on foot to the Time Out Market food hall for a late dinner and drink before heading to bed for the night.
Saturday and Sunday were our only full days to explore Lisbon. It was not nearly enough time to enjoy everything this incredible city has to offer, but here's how we made most of it in a weekend.
Santa Justa Lift
The Santa Justa Lift is an elevator that connects the lower streets of the Baixa neighborhood with the higher Carmo Square. It was built circa 1900 and is the only vertical lift in Lisbon. Today, it serves mostly as a tourist attraction and tourists wait in long lines to pay to ride the lift.
We decided to walk up to Carmo Square instead. From here, the viewing platform of Santa Justa Lift is accessible for a couple euros and provides lovely views over Lisbon.
Glória Funicular
After enjoying the views from the Santa Justa viewing platform, we walked over to the Glória Funicular — a cable car that links the lower Pombaline downtown with the Bairro Alto. For a few euros (or included if you have a daily transportation pass), this cute old cable car brings passengers to a beautiful viewpoint and back down again.
Have you gathered yet that Lisbon is full of steep hills?
The hills provide many beautiful viewpoints, or miradouros, and I love how the city has made things so accessible with the many lifts and transportation methods.
The Pink Street
After riding the funicular, we went back in the direction of our hotel to Lisbon's famous Pink Street, or Rua Nova do Carvalho.
This Instagram-worthy street actually used to be Lisbon's Red Light District, full of shady bars and brothels. The area got a makeover circa 2011; brothels closed, new bars opened, and the street received its famous pink coat of paint. Now, it's full of photographers and influencers during the day and is a bustling scene of drinks and music at night.
Tip: Unless the sun is right overhead, this street is pretty shaded due to the tall buildings on either side. Time your visit right if you want a pretty Pink Street picture.
Time Out Market
The Time Out Market is hands-down the best spot to grab brunch, lunch, a mid-snack, dinner or late-night bite in Lisbon. With so many delicious options to choose from at this food hall, your tastebuds will never be bored!
We ate here several times during our short stay because it was quick, convenient and always enjoyable.
Historic Tram 28
Following lunch at Time Out Market, we decided to go for a ride on Tram 28. This line has run through Lisbon since the early 1900s, and takes passengers through some of the most charming neighborhoods with the loveliest sights. Unfortunately, because it's such an enjoyable ride, it has become very overcrowded by tourism.
When we visited in January, the queue to ride the tram was not bad at all. We may have reconsidered doing this activity during a busier month. This site offers some great alternatives to Tram 28; check it out!
Tip: If you want to do these same activities, you should purchase a Viva Viagem card and load it with a 1-day ticket for unlimited travel on metro, bus, tram, funicular and lift. It's a cheaper option than paying for each ride separately.
Belém
Belém should certainly be on any Lisbon itinerary. Though not within walking distance like everything else we'd done thus far, it's a short cab or Uber ride away. There's also a lovely bike path along the water, offering bike or e-scooter alternatives in nice weather.
No matter your mode of transportation, traveling along the water offers lovely sights of the 25 de Abril bridge, the Padrão dos Descobrimentos monument and last, but not least — the Belém Tower.
Our first stop was Pastéis de Belém for their famous pastries!
These custard tarts were created before the 18th century by monks at the monastery down the road, and Pastéis de Belém began selling them in 1837. Pastéis de nata are well known and easily found throughout Portugal, but the best are here in Belém.
Plan for a long line to get in — it's a very popular spot. Fortunately the line moves quickly because there are 400 seats inside!
Our next stop was Belém Tower. We had intended to see the Jerónimos Monastery as well, but we were losing daylight fast in January, so we only got a glimpse of the impressive structure from the outside.
We made it over to Belém Tower just before the last bit of blue sky turned to black. A truly beautiful sight to see.
Taberna Sal Grosso
We managed to get reservations at Taberna Sal Grosso that evening — quite a treat! This small restaurant only holds about 20 people and there are no waiters; chefs interact directly with the tables. There's one set menu on the wall with a handful of options. Everything we ordered was delicious, and we really enjoyed the intimate experience.
Pena Palace, Sintra
We started the following morning early by getting on a 9 a.m. train to Sintra.
Sintra is home to Pena Palace, one of the most colorful and elaborate palaces in the world, and a must-see during a visit to Lisbon. I gathered tips to plan our visit from this blog.
We arrived at Pena Palace shortly after 10 a.m. and the crowds were fairly minimal (but again, January is an 'off-season' month for Lisbon travel and tourism).
We wandered around the exterior and interior of the palace for a few hours. This place is stunning — the photo opportunities are endless!
After exploring the palace, we set foot into the palace gardens. It's easy to get lost in here! Several pathways wind through the trees and bushes and it's very peaceful and beautiful.
We walked up to the High Cross, or Cruz Alta, viewpoint. The trees blocked the palace a bit, but it still made for a cool view.
We made our way back to the train station around 2 p.m., and headed back to Lisbon to enjoy a few more hours of daylight there.
Note: If we had more time in Sintra, I would have loved to visit the Quinta da Regaleira and the incredible Initiation Well with a 27-meter spiral staircase.
Belém Tower Sunset
We got back to Lisbon with a couple hours to spare before sunset. After a quick bite at Time Out Market, we head out on scooters along the river to Belém Tower.
We loved how beautiful the tower was at night, and we wanted one more opportunity to see it in the daylight. As it turns out, the little cafe right by Belém Tower was the perfect place to watch the sun go down.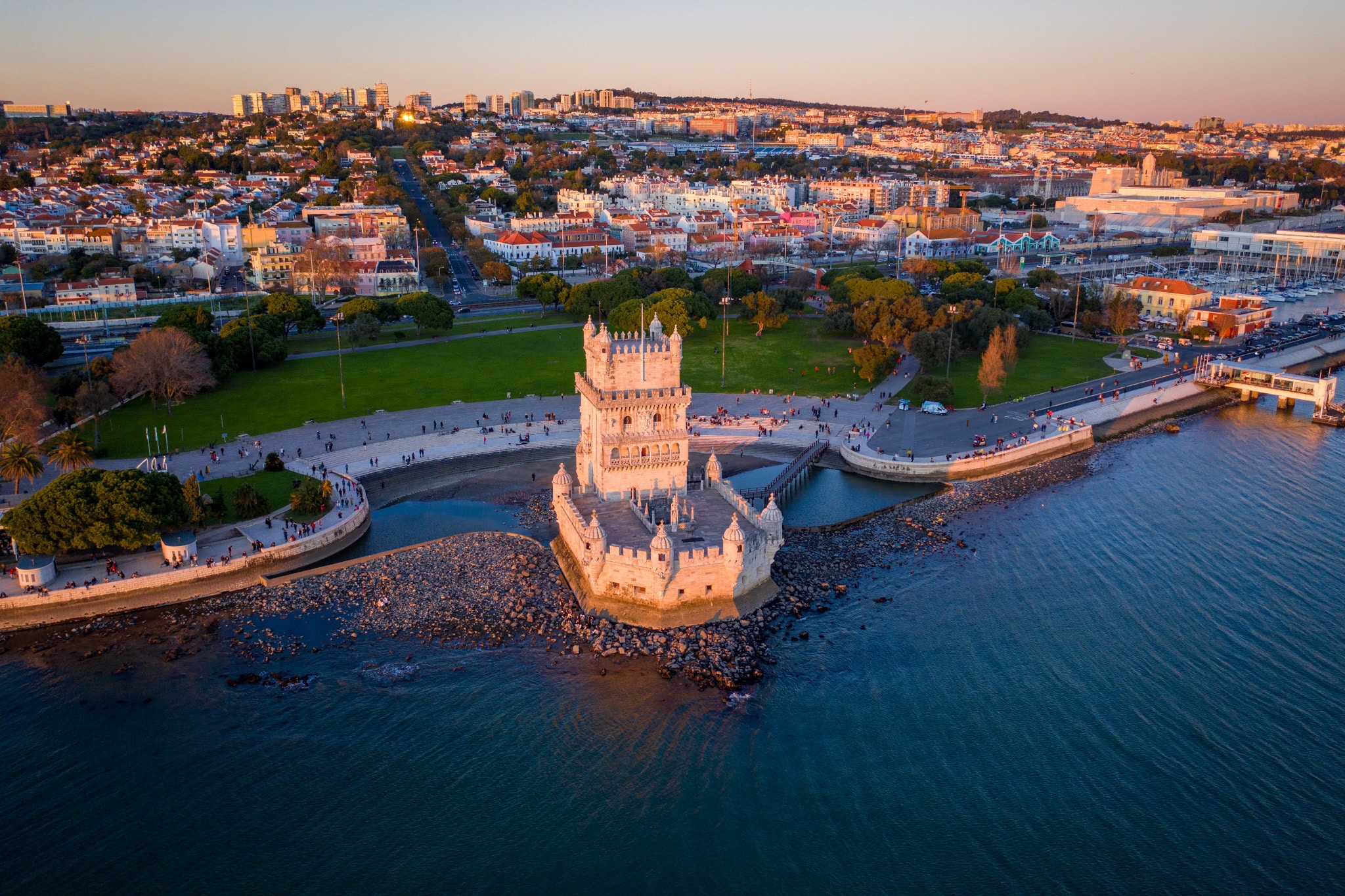 LX Factory / Rio Maravilha
After sunset, we took an Uber to the LX Factory — an industrial area turned artsy district full of cool restaurants, bars and shops. We instantly regretted not coming here earlier in our trip! Very unique spot with an awesome atmosphere.
We dined at a gastropub here called Rio Maravilha. The restaurant is in a beautiful dining room set off from a funky rooftop bar with attentive staff who go above and beyond for a fantastic dining experience.
The food was amazing — ceviche, soft shell crab, mackerel tempura, triple fried potatoes and chocolate mousse. 10/10 would absolutely return for another dinner at Rio Maravilha. Be sure to sample some of the fancy cocktails in the bar before heading in for your dinner reservation, and don't forget to head outside to the terrace for a beautiful view of the 25 de Abril bridge illuminated at night.
Fado Show
One of the things I really wanted to do in Lisbon was hear some live Fado — a Portuguese genre of music that commonly includes a solo singer, guitar and/or other instruments, melancholy lyrics and an emotional melody.
In Lisbon, you can find many opportunities to listen to Fado, from elegant dinner shows to casual performances in intimate pub settings. We kept it simple and went to a small bar called Povo on the Pink Street. We enjoyed a couple drinks and got lost in the music. It was a lovely way to end the night.
Alfama
I'm including Alfama although we only spent a brief bit of time here in the morning before catching our flight home. I wanted to take in the sights of some more azulejos (tiles) and visit the viewpoints at the tops of the steepest hills for one last look over Lisbon.
Our next visit to Lisbon will have to include more time in this beautiful old neighborhood.
Lisbon was beautiful, rejuvenating and weirdly familiar. Though different in many ways, we couldn't help but draw comparisons between Lisbon and San Francisco, which is home for me and close to home for Ben. A city by the water with steep, winding streets; the sound of seagulls cawing overhead; trams that look similar to our beloved San Francisco cable cars; and the most obvious similarity of all — the bridge that draws a striking resemblance to one we know so well back home.
Until next time, Lisbon.