Looking for a charming destination in Europe that doesn't break the bank? Look no further than Prague.
Prague is an easy six-hour drive from where we live in Germany, so it's the perfect place to escape for a long weekend.
We arrived in Prague on a winter afternoon with only a couple hours of daylight to enjoy. We went directly to Old Town Square to take in the beautiful views of the gothic church (Church of Our Lady before Týn) and the medieval astronomical clock (Prague Orloj). Then, we sat down for dinner and drinks at The Dubliner — couldn't resist the heat lamps and blankets outside!
After dinner, we walked over to the Karlovy Lazne Ice Pub — quite a fun experience! It's chilly inside, but they provide warm jackets and gloves. The entry ticket (around €7) includes one drink served in a glass made out of ice. Be sure to drink it quickly before the ice melts! You only stay inside for 20 minutes, but that's plenty of time since it's not a large spot.
We strolled around a bit after the Ice Pub admiring the beautiful architecture and getting a feel for our home for the next two days.
We stumbled upon a little bar called Kafe Damu and enjoyed a few glasses of wine; it's a really pleasant spot located inside a theater academy with a hip vibe. Friendly staff and a flavorful wine list.
The following day we set out to see the Prague Castle. We walked up the steps to the castle and enjoyed the views from the top before going in.
We did not spend a lot of time inside of the castle grounds, but we were quite impressed with St. Vitus Cathedral. It's worth going into the castle grounds simply for this picturesque view!
After leaving the castle, we stopped at the most perfectly located Starbucks for lattes and a temporary escape from the rain.
After we dried off, we headed to Malá Strana on a mission to find a particular archway I saw on Pinterest. It was just as pretty in person!
We made our way over to Charles Bridge and looked at all of the statues — and made sure to rub the golden one which brings good luck! We paid a few euros to climb the stairs of the watchtower and enjoyed the stunning views of the castle and bridge.
The following morning, we got an early start with the Prague Communism Tour. This walking tour visits several locations in Prague and explains the significance of each during the communist era.
The highlight is going deep down into a nuclear bunker built in the 1950s. The bunker, four stories underground, was made to hold up to 5,000 people. It's quite impressive! Today, the different rooms and hallways include exhibits on the communist period, the Cold War, the different gas masks that were used and more.
Our tour guide Ivan was great. I recommend it if you are interested in learning a little history and if you want a cool photo like this that will probably hinder your chances at getting a job with the U.S. Government.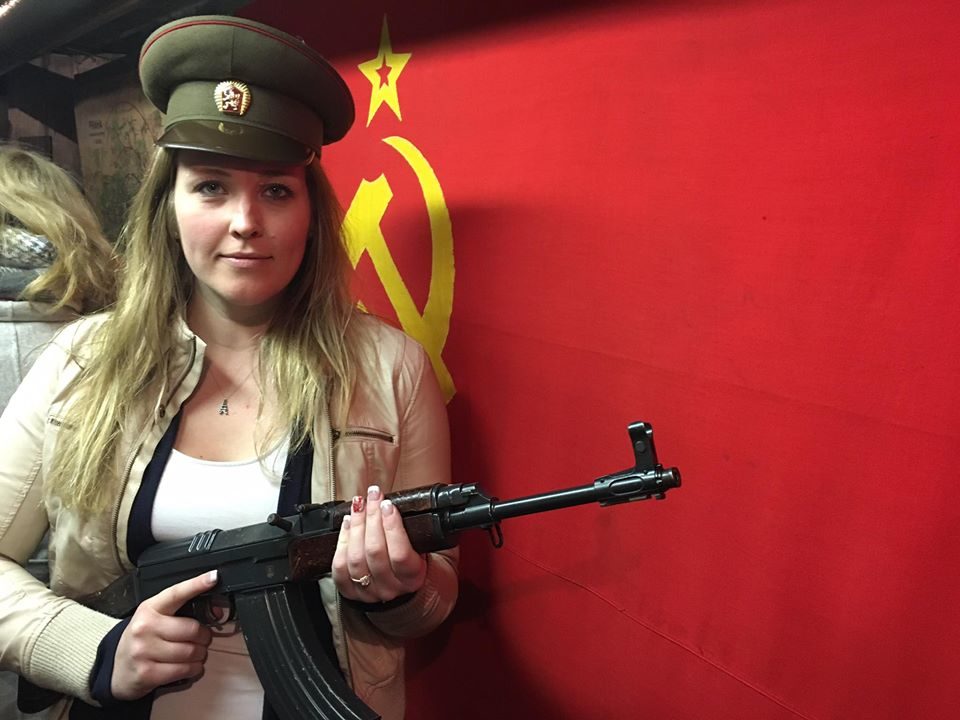 After the tour, we devoured a delicious burrito at Burrito Loco, a Chipotle-esque Fresh Mex hole-in-the-wall.
A delightful establishment right next to Burrito Loco caught our eye as we were having lunch. The ground floor, Food Story, had delicious-looking food available. Downstairs, there was a lovely underground bar/tasting room called Pipá Beer Story. We sat here for a little while and tasted some Czech brews.
For dinner that evening, we ate at K The Two Brothers Indian restaurant. I know, Indian food in Prague? It was quite good, despite the fact that we had to pay extra for rice.
Another great option is a tiny little restaurant called U Magistra Kelly, which is so very pleasant. It doesn't look like much from the outside, and inside there are only about 10 tables. It was very charming. A playlist of old 90s songs played on repeat on an ancient-looking computer. I ate a baked camembert dish that I still think about months later!
On our final day in Prague, we wandered over to the John Lennon Peace Wall. This wall has been filled with love quotes, lyrics and messages since the 1960s, but it took on John Lennon-inspired graffiti following his death in 1980. So many people contribute to the wall that its appearance regularly changes. Below is a comparison of the wall when I visited in 2012 compared to 2016.
We were in the mood for something fun that evening and noticed an advertisement for a jazz concert at The Royal online. It was very cheap (a few bucks per person), so we thought, why not?
The Royal is a little off the beaten path — but wow, what an incredible building! This venue was built in the 1920s and still has most of its original fittings and furnishings; it's like a trip through time walking through the doors. The seating area is made up of different couches and cozy armchairs, all mismatching yet matching perfectly in their unique colors and patterns. We found the perfect spot right in line of center stage.
Also a plus, the drinks here were cheap! I enjoyed a few glasses of wine at around €2 each. I absolutely recommend this place to anyone spending a few nights in Prague, kid-free. They also host a burlesque show, which I bet is fantastic!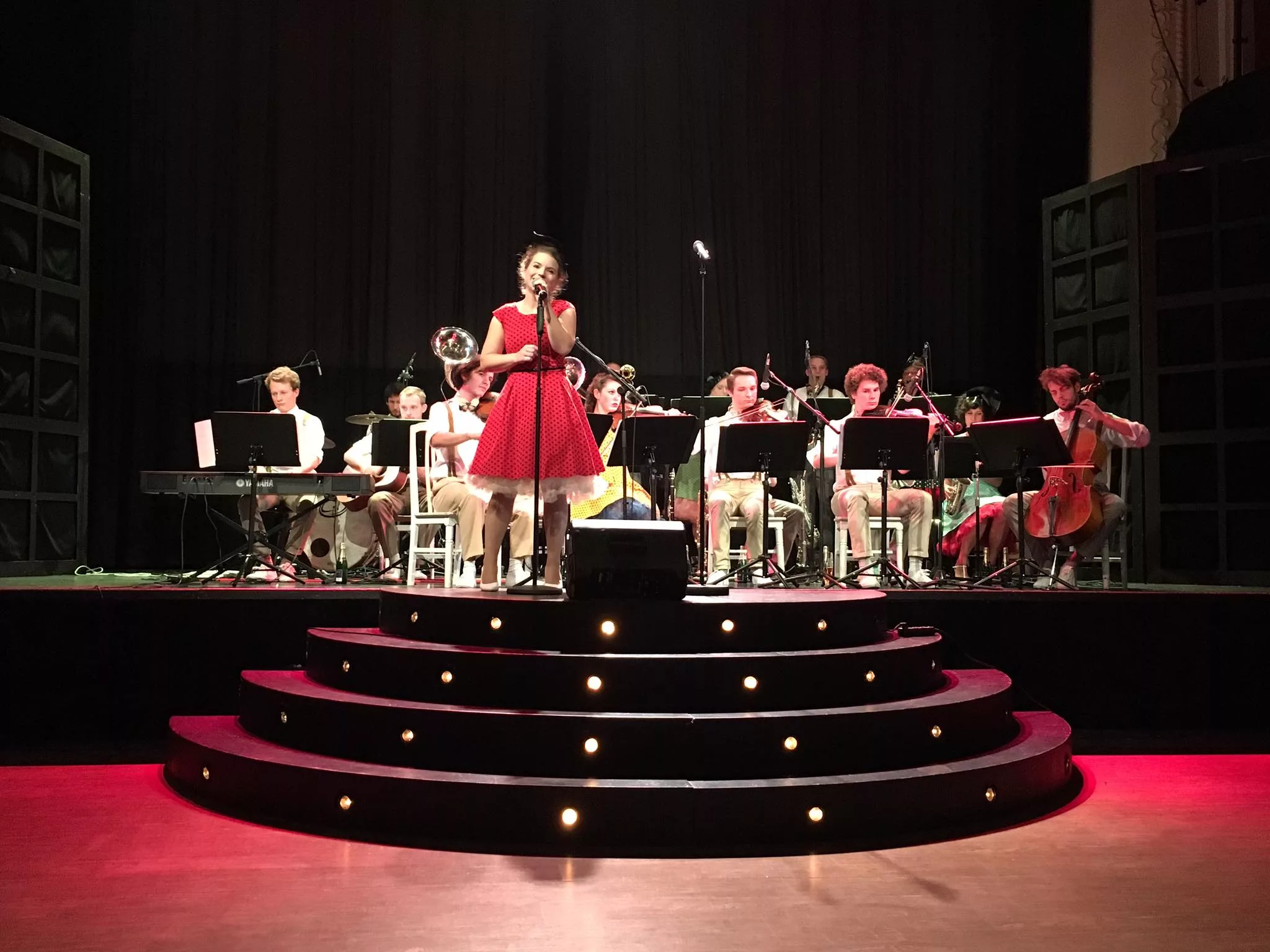 The following morning, we checked out and headed back to our car, which was parked at a train station outside of the city to avoid high parking costs and a potential break-in.
We had a nice weekend despite the on-and-off rain. Prague is a lovely city, and definitely deserves a visit.