For our honeymoon, Ben and I decided to visit Vietnam!
This blog is part one of our honeymoon series consisting of: 2 Days in Ho Chi Minh City, 3 Days in Hoi An and 6 Days in Phu Quoc.
Getting There
Our trip began at Frankfurt International Airport, where we flew to Abu Dhabi with Etihad Airways. We were impressed with the customer service, the level of comfort, the entertainment selection and the food. Our layover was short in Abu Dhabi, just enough time to get from one gate to the next and continue our journey to Ho Chi Minh City (about 15 hours of flying total).
We landed in HCMC and were greeted by warm weather. We left behind 30-40° F weather in Germany and were instantly loving the 90° F weather in Vietnam (in February!).
The next step was to hop in a taxi to our hotel. I had read on other travel blogs that the reputable taxi companies in Vietnam are VinaSun (white) and Mai Linh (green). I'm glad we listened to this information, because we were immediately offered a ride from another company for 300,000 vnd. We declined, got in a VinaSun taxi and paid less than 150,000 vnd (approx. $5) for our 20-minute ride to Duc Vuong Hotel.
Duc Vuong Hotel is situated on Bui Vien Street — one of the busiest party streets in Vietnam. Any day of the week, this street is full of locals, tourists and backpackers looking for a bite to eat or a cold drink. We enjoyed the hustle and bustle so much! The hotel is almost at the very end of the street, so it's a bit removed from the noise. Our room did not face the street, and we couldn't hear any of the noise at night.
Since we arrived at around 7 p.m., we didn't get to do a lot the first day. Luckily, we had two full days after our arrival. We went upstairs to our hotel's rooftop restaurant/bar, The View, and had a lovely dinner followed by drinks.
Afterwards, we went walking up and down Bui Vien Street to take in the sights. We found a nice balcony for couple drinks and watched the people below us, in awe of our new surroundings for the next couple of days!
Cu Chi Tunnels
The next morning, we woke up early to go on a half-day tour of the Cu Chi Tunnels. We decided to go on the 10-person tour provided through our hotel, which surely was a little pricier than the larger tours offered by the local agencies, but it was still very reasonably priced (around $20 if I remember correctly). We rode in an air conditioned mini-van to the tunnels about two hours away.
The tunnels are an incredible thing to see. During the tour, you get an opportunity to see secret entrances, examples of traps that were used to keep enemies out and the main event — going down into the tunnels yourself! If you are claustrophobic, I don't recommend doing this part. I'm not normally a claustrophobic person, but I don't think I could have handled more than five minutes down in the tunnels. They are incredibly cramped, very narrow and windy. You can't stand up straight and in some parts you have to belly crawl to get through to the next section. Not to mention the heat! 90° F outside is easily 95-100° F in the tunnels. We came out sweaty, uncomfortable and so happy to see daylight again. To think that Vietnamese soldiers were in these tunnels for hours upon hours of each day during the war is unbelievable.
War Remnants Museum
At our request, our tour guide dropped us off at the War Remnants Museum on the way back to the hotel. This was an interesting experience as two Americans — specifically two Americans who are affiliated with/members of the U.S. military.
It is horrific to see some of the war crimes committed against the Vietnamese during what they call "The American War." However, the museum is pretty biased and full of anti-American propaganda. No wrongdoings by the Vietnamese are portrayed, except for the Vietnamese who were fighting alongside the Americans (referred to as the American Puppet Administration in the museum).
Overall, it is a somber experience. Gruesome images and accounts of mass murder, an exhibit on the longstanding effects of Agent Orange and more. It is an important piece of history, and a stop I would recommend — just prepare yourself, as it is a bit slanted.
Food and drinks in HCMC
We walked back to Bui Vien Street from the War Remnants Museum and enjoyed a late lunch at Five Oysters, a restaurant right across the street from our hotel.
After freshening up, we headed out toward Ben Thanh market and had drinks overlooking the city at OMG Rooftop Bar. "OMG" is right! The views from this bar are absolutely spectacular. Drinks are a little more expensive than what you'd normally pay in Vietnam, but during happy hour everything is 50% off, so you can get beers and cocktails for $1-3. The dress code suggests no shorts and no flip-flops, but luckily they let us in (probably because it was early and they were not busy). I would imagine later on in the evening they may be more strict about enforcing the dress code.
It was a little too late in the day for us to go inside the Ben Thanh marketplace, but there were still many vendors set up in the streets outside of the building late into the night. We bargained our way to a hat, a pair of pants and a shirt for around $10, then headed onward to the Ben Thanh Street Food Market.
Yum! So many delicious food options. The Street Food Market was similar to the Copenhagen Street Food Market, except with mostly Asian delicacies. We enjoyed dinner and some beers and then headed back to Bui Vien Street to retire at our hotel.
Mekong Delta
We woke up early again the following morning for a full-day Mekong Delta tour. We booked this tour through one of the many travel offices on Pham Ngu Lao Street, a couple blocks away from Bui Vien. The price was only about $7 per person.
We hopped on an air-conditioned bus with about 30 other people and drove a little over an hour to My Tho, where we boarded a boat to the Mekong Delta.
The Mekong Delta tours all seem to include the same touristy stops: seeing the locals make coconut candy, a Vietnamese lunch prepared by the locals, enjoying fruit while listening to traditional Vietnamese music, visiting a bee farm and going on a small row boat through the canals. I probably could have done without the first three, but really enjoyed the tour overall. The Mekong Delta tour was a cultural experience that we could not have experienced in Ho Chi Minh alone, so I'm really glad we went!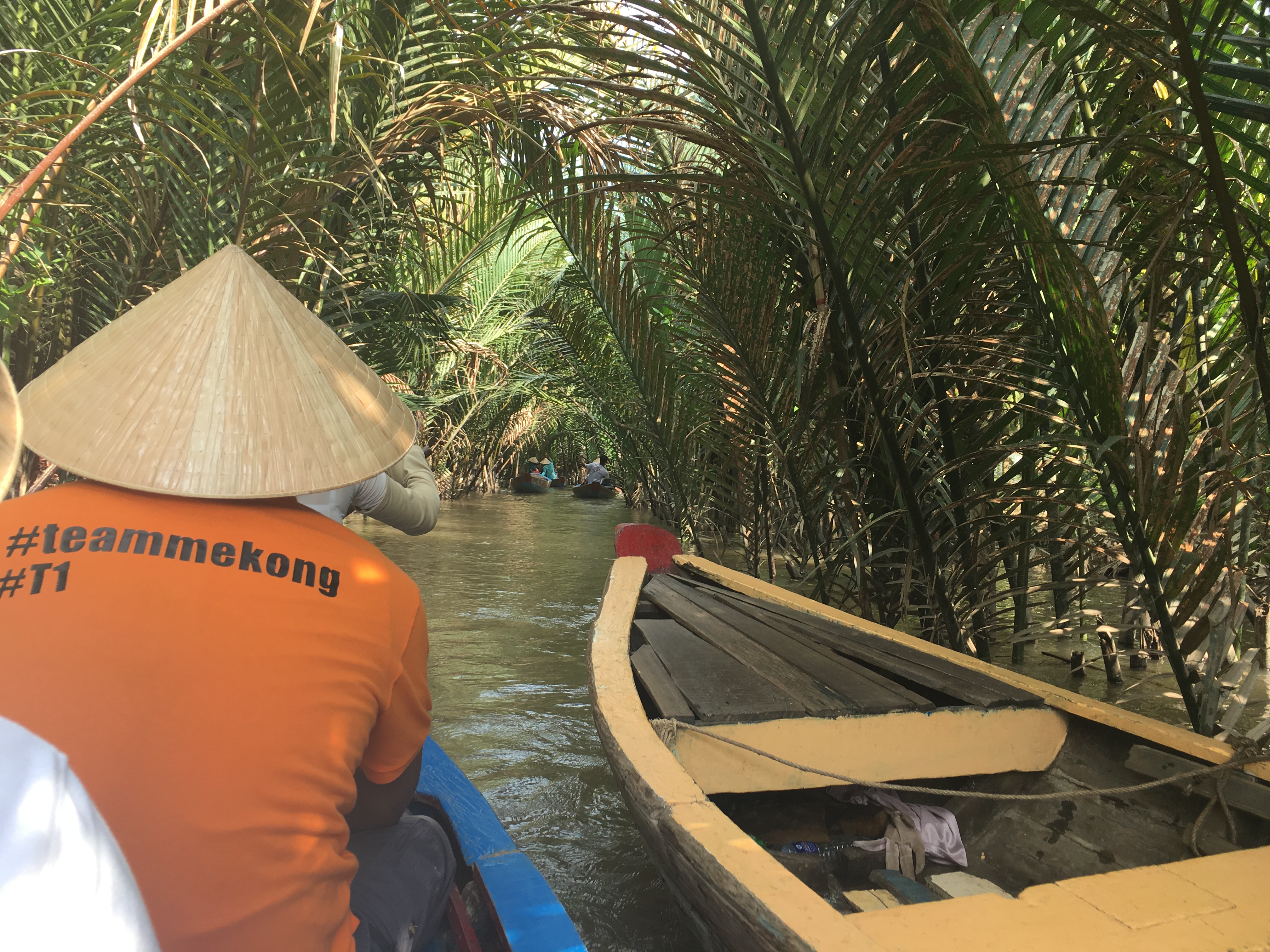 When we returned from the Mekong Delta tour around dinner time, I had the strongest craving for something western. Only my third day in Vietnam and I was already getting tired of meat, noodles and rice… Oops!
I convinced Ben to go to Pasteur Street Brewing Company so I could eat a grilled cheese sandwich with tomato soup. This is not the nicest spot for dinner — it is cramped and more of a bar than a restaurant — but the food was delicious! And the beers… yum. Best beer we had in Vietnam. The Passion Fruit IPA was my favorite!
We ended our final night in Ho Chi Minh City with another walk down Bui Vien Street followed by cocktails on our hotel's rooftop bar. We overlooked the city and talked about how sad we were to leave, but how excited we were to get to our next stop: 3 Days in Hoi An, Vietnam!