Peru has been on my bucket list for as long as I can remember. I knew the first time I saw the iconic postcard picture of Machu Picchu that I needed to see it with my own eyes. As I learned more about Peru through online blogs, pictures and travel resources, I realized how incredible of a destination it is with no shortage of stunning landscapes, outdoor adventures and sites to see.
My best friend and I traveled on our own to Peru and felt very safe. As with any trip you take anywhere, it's important to be constantly aware of your surroundings and your belongings. Make smart choices, use trusted services (i.e. reputable taxis, tour companies, etc.) and do your research before embarking on an adventure. Having at least an elementary-level understanding of Spanish is helpful in Peru — we encountered several situations where speaking English not an option. 
Flights from the United States will take you to Lima — Jorge Chávez International Airport. I flew direct from Houston to Lima using United points. 
If you're interested in opening a credit card (especially if you're military and get the annual fee waived!), it's nice to do so in advance of an expensive flight and use the sign-up bonus to cover your airfare. Just remember, these cards are not meant to carry a balance on. Use wisely and only spend what you have! 
For example:
The Chase Sapphire Reserve is my favorite travel credit card because it accumulates points quickly and offers a $300 annual travel credit along with many other perks. The typical sign-up bonus is 60,000 points (which may be used to book travel at a 1.5X redemption in the Chase Travel portal or transferred to partners) but we've seen it higher. Check your sign-up offer here. 
The United Club Infinite card was running 90,000 point sign-up bonus when I signed up in 2023 — more than enough points to cover roundtrip airfare to Peru! Check your sign-up offer here. 
Our flight arrived in Lima at 9 p.m., so we booked an Airbnb relatively close to the airport and flew to Cusco the following day.
The Airbnb in San Miguel was a clean, spacious apartment with a beautiful view of the coast. We loved it!
Before heading back to the airport the next day, we took an Uber to Miraflores where we had breakfast at Larcomar, an outdoor shopping mall built into the cliffside with beautiful views of the coastline. 
You might feel sad to leave Lima so quickly, or you might be ready to leave immediately. Feelings are mixed. For me, I always love being near an ocean and the morning along the coast was lovely. But what awaited us in Cusco was even better. 
We flew to Cusco on LATAM, who operate several flights between Lima and Cusco each day. Upon arrival to Cusco we checked into our Airbnb, which we absolutely adored. This beautiful apartment sits at the top of Calle Choquechaka on the Calle Siete Borreguitos — arguably the most picturesque street in all of Cusco. The views from the balconies and rooftop terrace are stunning. If this Airbnb is available for the dates of your stay, don't hesitate! 
Cusco is an amazing city. Be sure to set aside time to explore on foot, visiting the Plaza de Armas and San Pedro Market, pop into various delicious and very affordable restaurants, enjoy some pisco sours and meet the sweet baby alpacas ready to have their photo taken for a couple soles. Cusco is also home to many, many street dogs who are friendly and appear to be well-fed and taken care of. 
Be mindful that Cusco is at 11,000 ft and you may experience altitude sickness. To be on the safe side, we started taking Altitude RX the day before arrival and throughout our stay. We also drank coca tea and ate coca candies, because coca leaves have been shown to treat symptoms of altitude sickness. Yes, coca leaves are the main ingredient used in cocaine; but no, eating and drinking these leaves will not make you high nor are they harmful to your health. Do be mindful though, consuming coca leaves may yield a positive drug test result. 
After our first day acclimating in Cusco, we set out for Machu Picchu. 
We took a 6:40 a.m. train from Cusco all the way to Aguas Calientes at the base of Machu Picchu. The PeruRail Vistadome offers beautiful panoramic views throughout the journey. During the train ride, they served coca tea and snacks. 
We arrived to Aguas Calientes around 11 a.m. and enjoyed lunch before heading up to Machu Picchu for our 1 p.m. entry. To get to Machu Picchu from Aguas Calientes, you can either take a 30-minute bus or walk for approximately two hours. Keep in mind that you'll spend several hours walking around Machu Picchu as well. We opted for the bus, got in line shortly after 12 p.m. and made it to the entry right at 1 p.m. Note that if you're going up to Machu Picchu first thing in the morning, you may stand in a bus line for much longer. 
Some tips for Machu Picchu:
Book entry tickets and train tickets online in advance — they may sell out several weeks/months prior
Follow Circuit 2 for the most comprehensive route with many photo points (you may only choose one of four circuits)
Don't forget your passport, which must be shown at entry
Bring water in a reusable container (no single use plastic)
Use the bathroom (2 soles) at the entry; there are no bathrooms inside
Wear + reapply sunscreen
We enjoyed dinner at Mapacho Craft Beer Restaurant in Aguas Calientes before heading home. I really liked this spot — great beer selection, delicious pizza and a lovely view of the water. 
We took the 8:50 p.m. train to Ollantaytambo, because the night trains don't go all the way to Cusco. We had reserved a taxi to pick us up in Ollantaytambo when the train arrived at 10:20 p.m. to bring us to Cusco, approximately a 1.5-hour drive. 
I booked the late train thinking we'd want more time to explore Aguas Calientes, but in hindsight I would have chosen an earlier train. You can also opt to stay the night in Aguas Calientes either the night before or night of your Machu Picchu visit so it isn't such a long day trip. If following our plan, be sure to reserve the taxi for Ollantaytambo — the train station and surrounding area seemed absolutely quiet and asleep when we arrived after 10 p.m. and I'm not sure how we would've gotten home had we not arranged our taxi in advance. 
You can also book a Machu Picchu day trip through any of the Cusco travel offices or through operators on Trip Advisor. Doing it this way saves you the hassle of coordinating train, bus and entry tickets along with additional transportation as needed. Sometimes I just want to 'do it myself' but it may have been an easier day if we let someone else do the planning and coordination.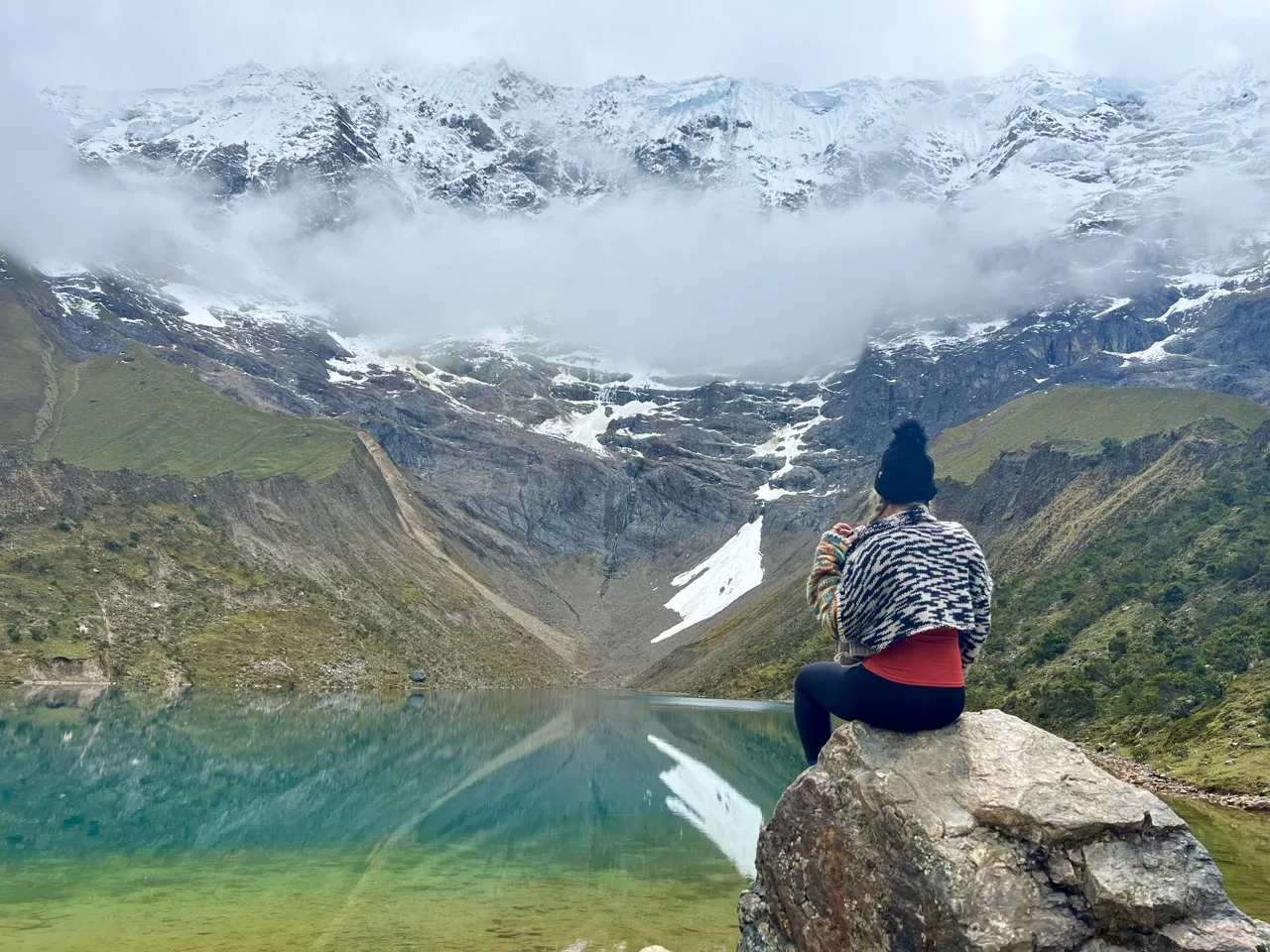 We booked our Humantay Lake excursion through Airbnb Experiences and had so much fun with our guide, Gorki! 
The early morning began with a pick-up from our Airbnb at 4 a.m. and, after picking up everybody else, set out on our journey. We stopped for breakfast in Mollepata where we enjoyed a nice buffet breakfast to fill us up before the hike. 
The hike was challenging. The trailhead sits at 12,630 feet with the end of the hike at 13,780 feet. It feels like a never-ending uphill climb made ten times harder due to the high elevation. As a fit individual, I struggled but survived. Hikers also have the option of riding a horse to the lake, but you cannot ride the horse back down. 
Full disclaimer, I upped the vibrancy a bit in these pictures. The lake wasn't quite as colorful in real life as it appears in photos online. However, Gorki told us that the lake is more colorful after fresh rainfall or when it's sunny outside, and we visited on a cloudy day. It was still very beautiful! 
After the hike, we returned to the same restaurant for lunch and filled our stomachs before driving back to Cusco. 
Some tips for Humantay Lake:
Dress in layers — I stripped down to a tank top on the way up; it's a strenuous climb! 
Wear hiking shoes, hiking socks and lots of sunscreen (even reapplying, I still managed to get sunburnt)
Bring sunglasses and a hat
Bring cash for the bathroom (1 sole) or a horse, if you need one
Be sure to use the bathroom before the hill climb, it's the last bathroom you'll have access to until you return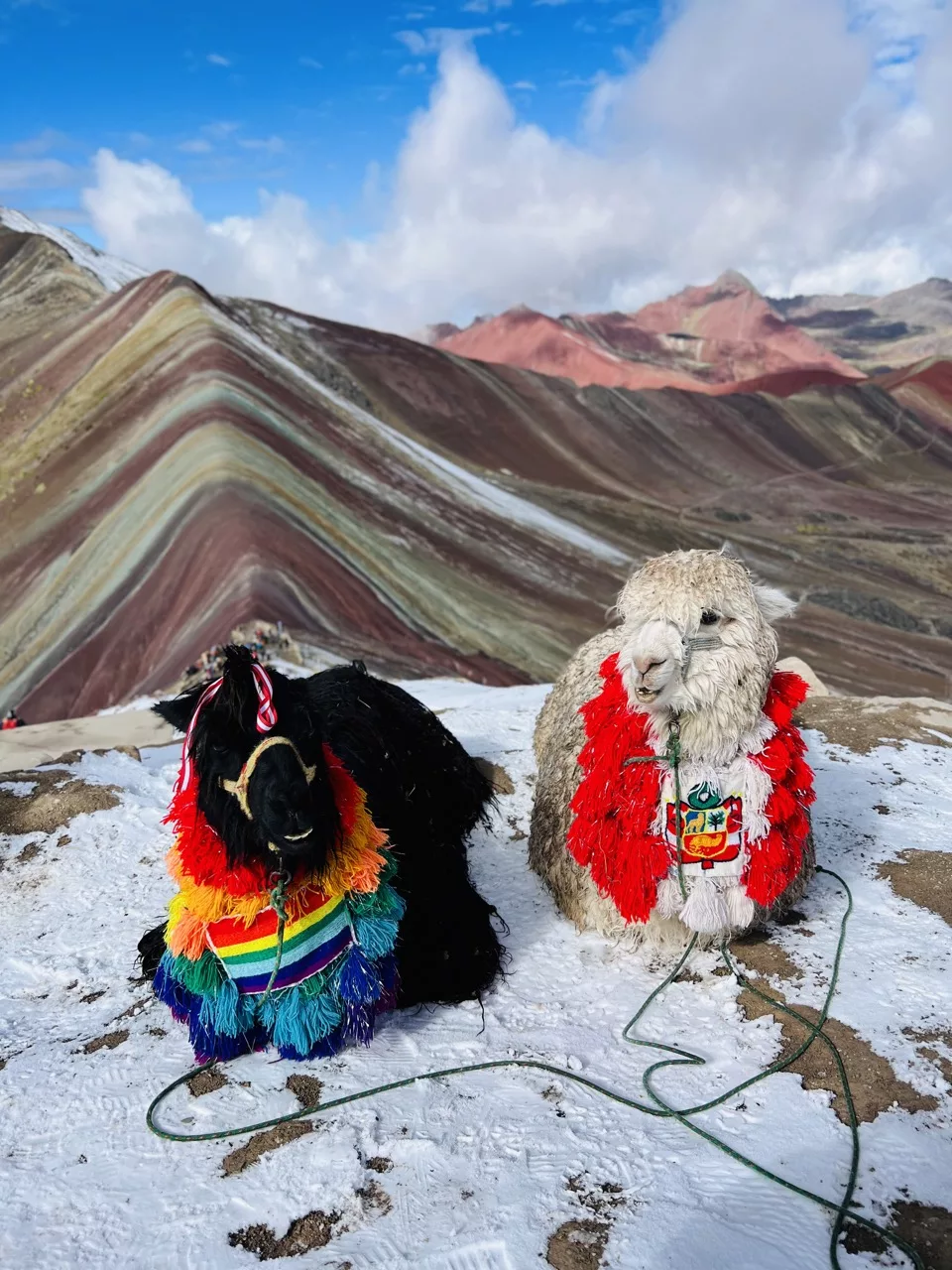 Rainbow Mountain, also known as Vinicunca, is one of Peru's fastest-growing attractions. Mineral deposits are the reason for the vibrant colors, which were not visible until as recently as 2013 since the mountain was permanently covered in snow. As soon as pictures of the colorful mountain appeared on Instagram, people began flocking to it.
You must have a guide to visit Rainbow Mountain. Any tour company in Cusco will take you there, but we decided to go with a company on TripAdvisor who promised to beat the crowds. We woke up at 2 a.m. for a 3 a.m. pick-up in Cusco, which put us on top of the mountain with only one or two other small groups. It was absolutely worth the early wake-up when we saw the large crowds forming as we were leaving. 
Rainbow Mountain is an incredibly beautiful hike, but it's no easy feat. The trail itself is mostly flat until the final ascent, but the elevation makes it challenging. The hike begins at around 14,000 feet and the summit sits at 17,060 feet. There is a steep climb during the last 20-30 min — take it slow. You may experience altitude sickness at the summit, but there are vendors selling coca tea and snacks to help with that. Like with Humantay Lake, you can pay to ride a horse up Rainbow Mountain — but you must get off the horse before the final ascent, which is the most challenging part. 
During our climb, the cloud cover was thick and it was snowing. We were so worried we would reach the summit and not be able to see the rainbow colors. Thankfully, the clouds parted and the sun came out just as we reached the summit. 
We loved the alpacas! Tipping the handlers for photos with them is optional but definitely recommended. 
After the hike, we returned to the same restaurant for lunch and had a wonderful feast including fresh ceviche and dessert. 
Some tips for Rainbow Mountain:
Go before the crowds
Dress in layers; we experienced freezing snow and wind along with warm sun during our hike
Wear hiking shoes, hiking socks and sunscreen
Bring sunglasses and a hat
Bring cash for the bathroom (2 soles), alpaca pictures or a horse, if you need one
Drink coca tea before, during and after; bring coca candies or leaves if you have them
This trip was amazing and I loved every minute of it. In a nutshell, our itinerary was as follows:
Day 1: Fly into Lima, arrive at night and stay in an Airbnb
Day 2: Fly to Cusco after breakfast in Lima, visit San Pedro Market to buy ponchos 
Day 3: Train to/from Machu Picchu
Day 4: Explore Cusco, drink pisco sours, eat delicious food
Day 5: Humantay Lake via Airbnb Experience
Day 6: Rainbow Mountain via TripAdvisor
Day 7: Fly back to Lima, then home
Doing this trip in one week was possible, but I could've easily stayed longer. I wouldn't recommend less than a week, and my biggest advice is to put a rest day in between each excursion. You might not think you need it, but once you experience altitude-induced insomnia which makes sleeping really difficult, combined with 3 a.m. and 4 a.m. wake-ups and strenuous hikes, it will all feel really exhausting. I had to sleep for 10 hours, three days in a row to recover from this trip — haha! It was all worth it, though, and I'd do it again in a heartbeat.